After I purchased a brand new Nikon DSLR D5100 camera last year, I felt a dire need to visit somewhere so that I could enjoy this prized possession. It was March end so I needed a short and quick tour for which Dhanaulti fit the bill. It is a road journey of approx. 100 or 110 kms from Saharanpur. However, despite this proximity, I had never visited Dhanaulti and did not know its exact location even on the map.
As you might be aware, Dhanaulti is a rather calm, not much visited hill station in Dist. Tehri Garhwal – somewhere midway between Mussoorie and Chamba. The average height is around 2280 meter above sea level.
The decision to visit Dhanaulti was rather a knee-jerk reaction – without any previous planning or study. I felt that the place was too close to Saharanpur to demand a serious planning. Climate-wise too, I was hoping to get a moderate, slightly cool temperature in Dhanaulti with no requirement for heavy woollens in the month of March. I didn't take much besides a sweater and a wind-cheater. Fools rush in where angels fear to tread!
Well, I proceeded at 7 in the morning of 30th March with an overnight bag and my Nikon camera bag. I adjusted laptop in the overnight bag because I didn't want to carry one more bag. UPSRTC shuttle bus service is quite reliable for travel to Dehradun and it took one hour 20 minutes to reach Dehradun ISBT. The distance between ISBT Dehradun and Mussoorie / Dhanaulti bus stand is nearly 4 kms and I took a shared three-wheeler to reach Dehradun railway station from where buses for Mussoorie and Dhanaulti leave.
I purchased a few pouches of dairy milk whitener and coffee before I entered the Mussoorie Bus stand. I had the wrong impression that Dhanaulti had no good hotels and restaurants where I would get coffee. I was mentally prepared to make the coffee by asking a cup of boiling water.
My problems began when I learnt at Mussoorie bus stand that there was no bus available for Dhanaulti in next few hours. A sardarji in the pre-paid taxi booth also bluffed me by saying that I would need to hire full taxi since there was no other passenger going to Dhanaulti and the one-way fare would be Rs. 1,500/-. If I needed a taxi for 24 hours, the charges would be Rs. 4,500/-. Sardar Ji even lied by telling me that I would need to pay the same amount from Mussoorie also for going to Dhanaulti.
I waited for 15-20 minutes and then a taxi driver suggested that I should take a taxi for Rs. 1,500/- and should wait for some passengers going to Mussoorie so that I may reimburse myself in part by charging the taxi fare from the co-passengers. Within minutes, I found a family agreeable to share the taxi with me upto Mussoorie. They were 3 people so @ Rs. 163/- I got taxi fare from them when we reached Mussoorie.
Even though I had no plans to visit Mussoorie, the taxi sharing arrangement necessitated an extra run of some 10 kms. for us and some extra time. I didn't mind it.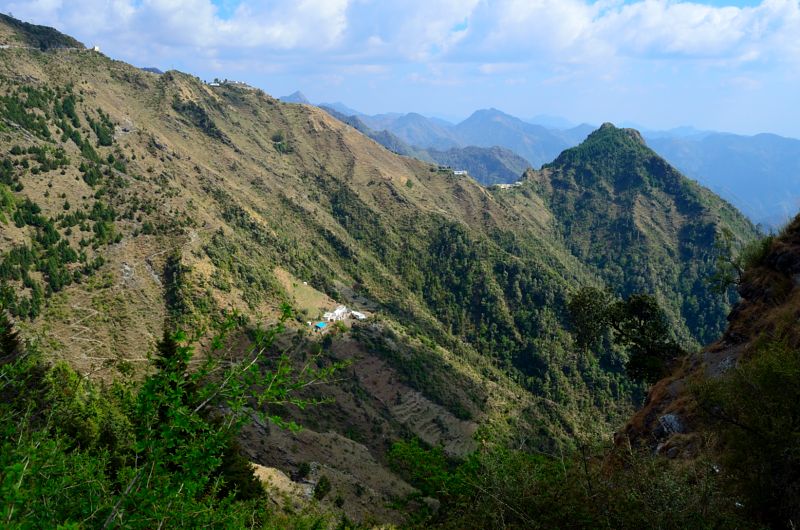 ---
My co-passengers didn't show any particular interest in me and I also busied myself in watching beautiful scenery on our uphill journey which took us from 1000 ft. to 7000 ft within a distance of 25 km. I have been to Mussoorie by bus, by own car, on my scooter / motor cycle and on foot also. Naturally, I am aware of almost all twists and turns of the zigzag road leading to Mussoorie, I felt like a daily passenger and did not ask the driver even once to stop the car so that I might click one or two pics.
The enjoyment started for me when we returned 4-5 kms and took the diversion for Chamba Road. Don't know why but I had always imagined that for Dhanaulti, we need to go further down after Kempty Fall. But it is not the case.
There are two roads leading to Dhanaulti and we may take either of the two. Even these two roads join after a few kms. to become the main Dehradun-Chamba Road. As I mentioned earlier, for going to Dhanaulti – Chamba, we need not cover full distance to Mussoorie. Near Hotel Country Inn, (approx 3 km. before Mussoorie) the Cart Road bifurcates – one leading to Library Bus Stand, Mussoorie and the other to our right becomes New Bypass Road leading to Dhanaulti – Chamba-Tehri. However, for the residents of Mussoorie, there is another route for Dhanaulti via Clock Tower -> Landaur market -> Woodstock school. This road ultimately meets the New Bypass Road at village Suakholi.
Well, it was already 1 p.m. when the taxi driver stopped at a Midway Restaurant in Suakholi village where old Tehri Road and New Bypass road merge into one. He wanted to have lunch and suggested me to do the same. There were three-four roadside dhabas and I chose one which appeared to be the most busy. While selecting an alien dhaba in an alien city / suburb for meals and breakfast, it is always safer to choose that joint where several other people are already taking their food.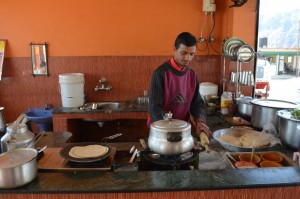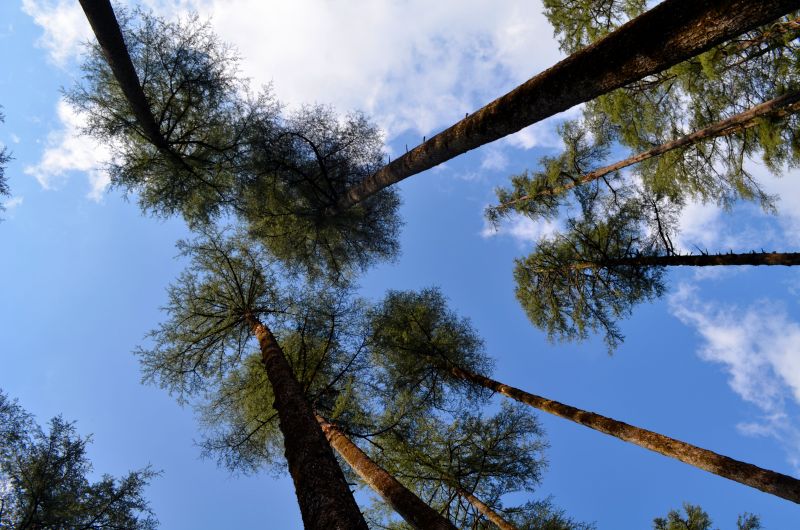 Instead of sitting in the main dining hall, I chose a table on the open terrace from where I could see the mighty mountains on one side and alarming depths on the other. The food was okay – okay type. Most of the people had ordered for maggie (two-minutes noodles) but I opted for daal, vegetable and chapati. After the lunch, we started again. Looking at the dangerous curves and steep heights, I was able to appreciate why our Indica taxi operators of Saharanpur had declined to go to Dhanaulti. Even if their Indica hatchback won't say NO to Dhanaulti, the drivers were not confident of themselves. At several places, I asked the driver to stop so that I could take some pics. He never objected to that which was perhaps the only benefit of chartering a full taxi.
When we finally stopped at Dhanaulti, I was pleasantly surprized to see some modern buildings with attractive facade – some of which were hotels and restaurants. Seeing a double-story structure and an attractive gate of the hotel, I entered to enquire about accommodation but soon discarded the idea of taking a room there. Moving further ahead down the road, I found a roadside double-storied building on my left. It had 8 rooms in all. The room shown to me on 1st floor was clean, well-ventilated, had a TV, bathroom with geyser, table, plastic chairs. I took it for Rs. 500/-. After paying to the taxi, I made myself comfortable in my new place of habitat for an hour. This place didn't seem to have any kitchen / restaurant but the 'chhotu' was willing to bring whatever food I needed.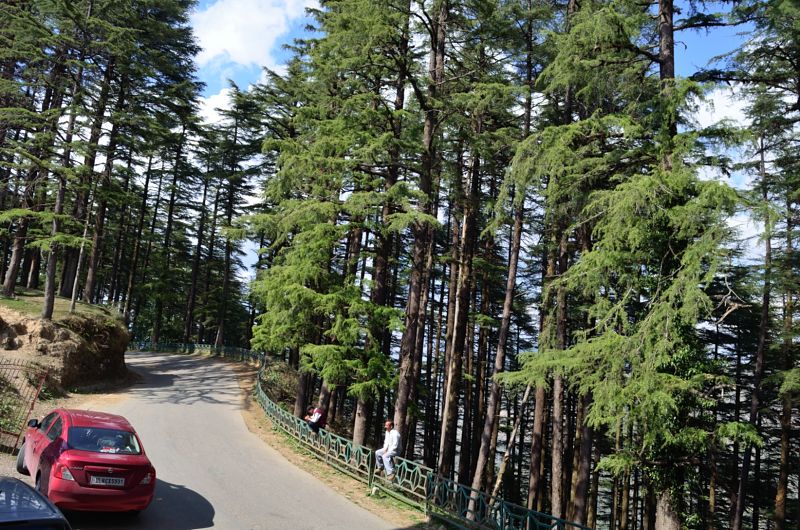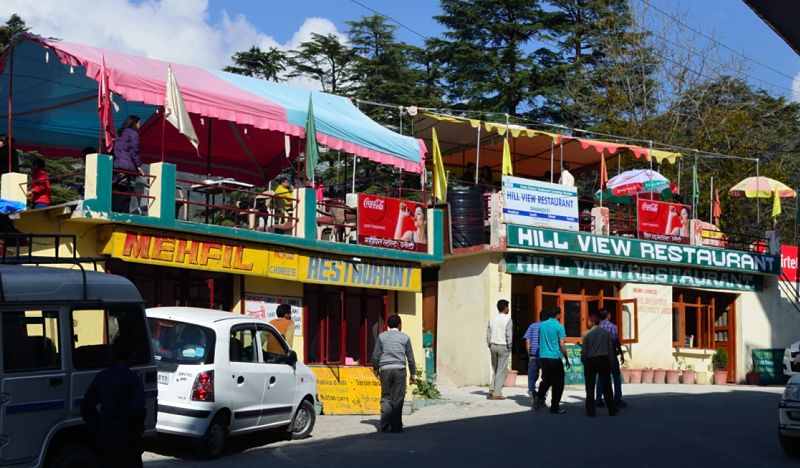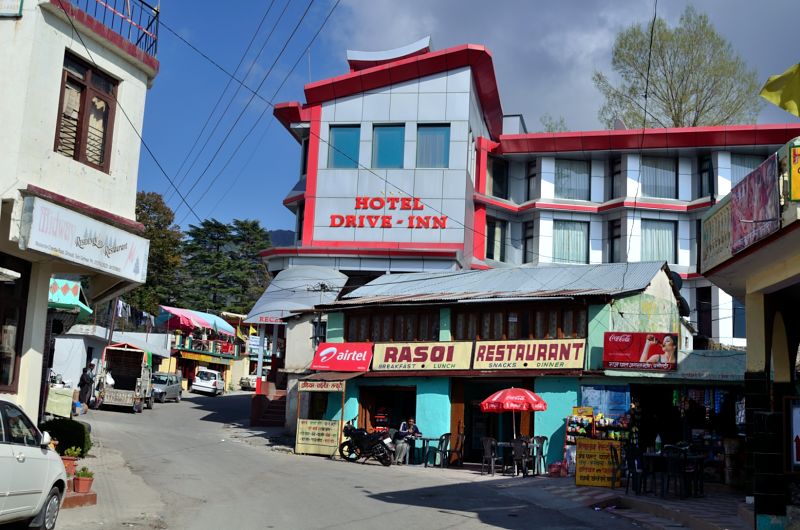 At around 4 p.m., I locked the room, took my camera on my shoulder and started further ahead towards Chamba on the main road which seemed to be the only road in Dhanaulti. Finding a tea shop where omnipresent maggie was being served to almost everyone, I asked for coffee and was offered the sweetest coffee of my life for Rs. 15/-. I told the shopkeeper to use just 1/3rd or less sugar next time. He looked at me with strange expression while I stepped down from the coffee shop!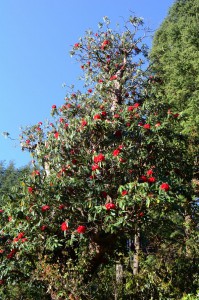 The most striking item that caught my attention in Dhanaulti were sparkling red Rhododendron flowers everywhere. Not only trees were laden with these peculiarly shaped flowers, even the roads had Rhododendron juice being sold in almost every other shop. I left the road several times to walk downward towards the valley to take closer look at these flowers and to take a few pics. Tall Deodar and Oak trees stood everywhere.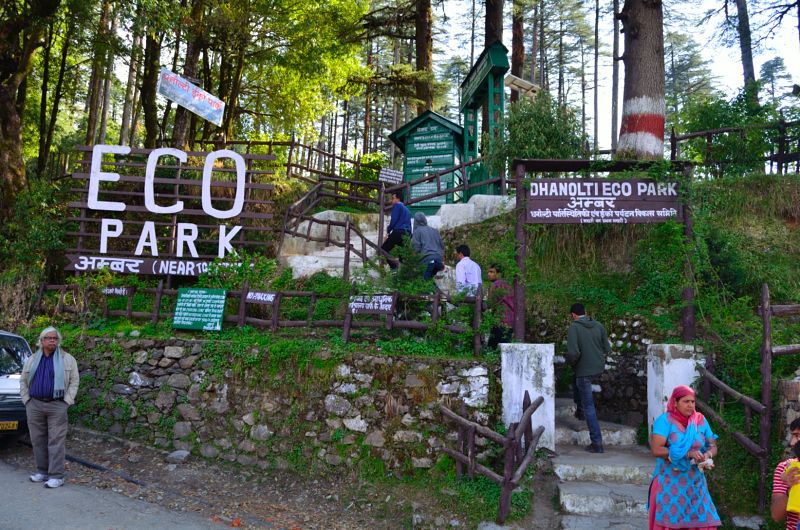 A little ahead I found Eco Park (Ambar Eco Park) to my right. Ambar is Hindi name for sky and this park is named Ambar Park because it is heigher than the other one which is named Dharaa Eco Park (Dharaa = Earth). Paying the entry ticket (perhaps Rs. 20/- per person), I entered the park to find myself at a fun point. There were different types of swings, funny games, mild-adventure rides and yes, shops of snacks. Burma bridge had many girls and boys precariously walking from one end of it to the other.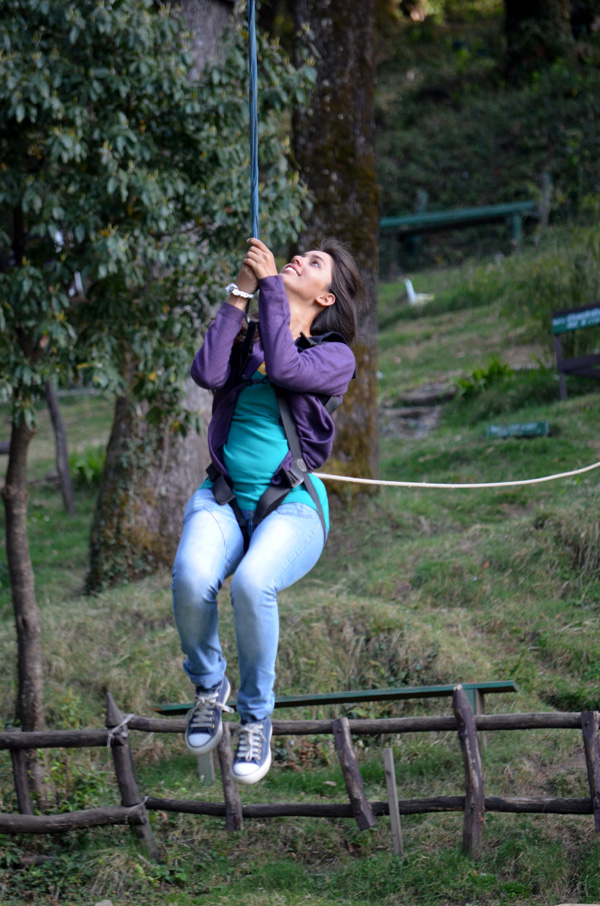 The most interesting was the flying fox wherein you walk upwards and ascend on a watch tower type of steel structure. The attendent helps you there with the rope tying you snugly and then you fly downward hanging from the rope. Instead of trying to fly myself, I was content with taking pics of those children who were enjoying this slide. Both the parks are being maintained by Forest Department of Mussoorie (DFO) and local people who have got regular employment through it.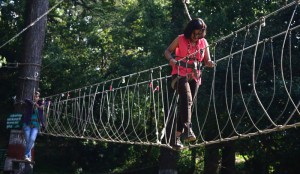 As I wanted to see more places in Dhanaulti before the sunset, I returned from the Ambar Park after spending an hour or so there and started walking backwards i.e. towards Mussoorie. Hardly 200 meters away, I found the other, smaller park i.e. Dharaa Eco Park to my left. Ignoring it, I moved ahead looking for some good location from where I could capture sunset. I found a narrow path amid woods that took me higher and higher and before I knew, I found myself in Dharaa Eco Park! While I was taking snaps of Deodar trees by pointing my camera towards the sky, a family from Jaipur saw me taking pictures with a professional looking camera and thought it fit to ask a few questions about the functioning of their own pocket camera. My offer to take their pictures with my camera was gratefully accepted by them and they gave me their email id so that I may send pics to them later.
Coming out of the Dhara Eco Park, I decided to be honest and paid Rs. 20/- at the Entry Point! It was already dark now and I had started feeling cold. Taking long strides partly to generate body heat and partly to reach my hotel room as early as possible, I came to my room, downloaded the pics into my laptop. At around 8 p.m., I took my wind-cheater and came out of the hotel room in search of meals. While stepping down from Ambar Eco Park, I had seen one restaurant and now I decided to try it and it proved to be a good decision.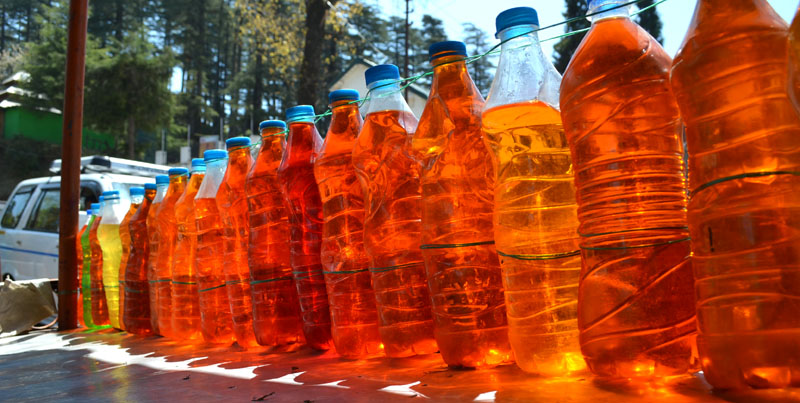 When I came out of the restaurant, there were several mule / horse owners who wanted to show me some scenic points early in the morning. After their insistence I agreed for a horse ride for Rs. 300/- but declined to pay any advance. I told that horse-wallah to come to the hotel in the morning at 5 a.m. so that we would go wherever he wanted to take me. However, he didn't come in the morning.
I was feeling very tired by now with stiffness in my back. I decided to try my luck and entered a barber shop for shave. I also talked about the body massage and the boy offered to do it. He promised to come to my room at 9 p.m. and he did come with a small bottle of mustard oil in his hand. For 200/- rupees, he did help me get rid of my backache and I had a sound sleep. The pictures I had taken that day had failed to please me and therefore, before switching off the light, I made a commitment to myself to try my luck again early in the morning.
Next day, my biological clock gave me the alarm at 5 a.m. as always happens with me. I put on whatever warm clothes I had with me and came out of the hotel with my camera. I was hoping for the horse-wallah to appear but none whatsoever was in sight. I was on the uphill Chamba-bound road and wanted to see those breathtakingly beautiful scenic points which the horse-wallah had boasted of the previous evening.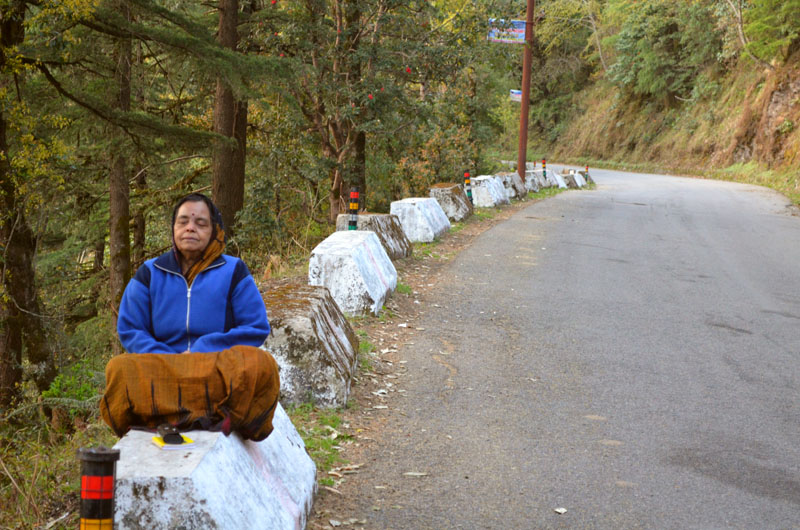 On that lonely path in that semi-darkness, I found an old lady sitting in lotus posture on the parapet wall of the road. Impressed with the posture, I sought her permission to take her picture but she declined. I walked a little further and took some pics of the early morning sun when she came to me and started talking with me. After feeling satisfied about my antecedents and the reason of my earlier request, she offered being photographed.
And this is what I found while I decided to move onto that lonely path.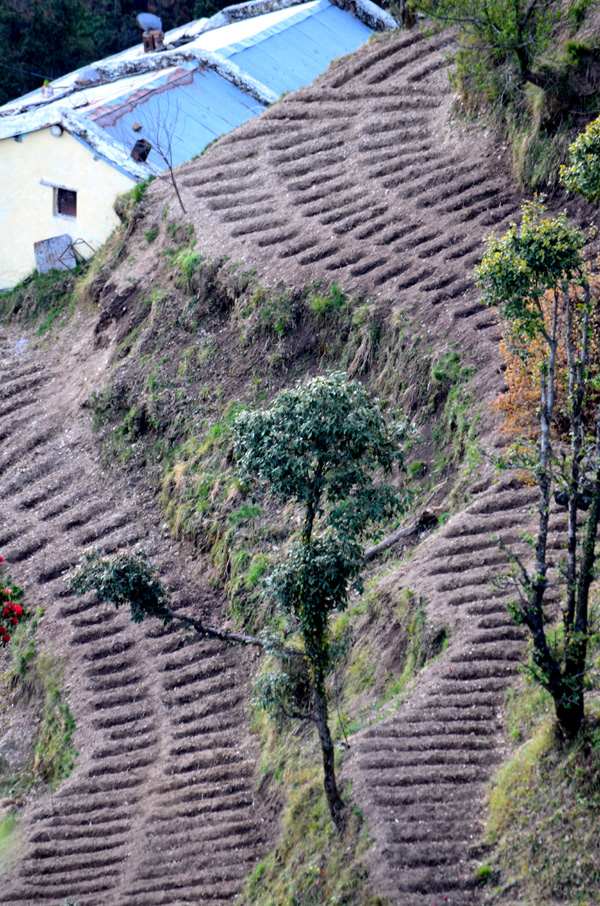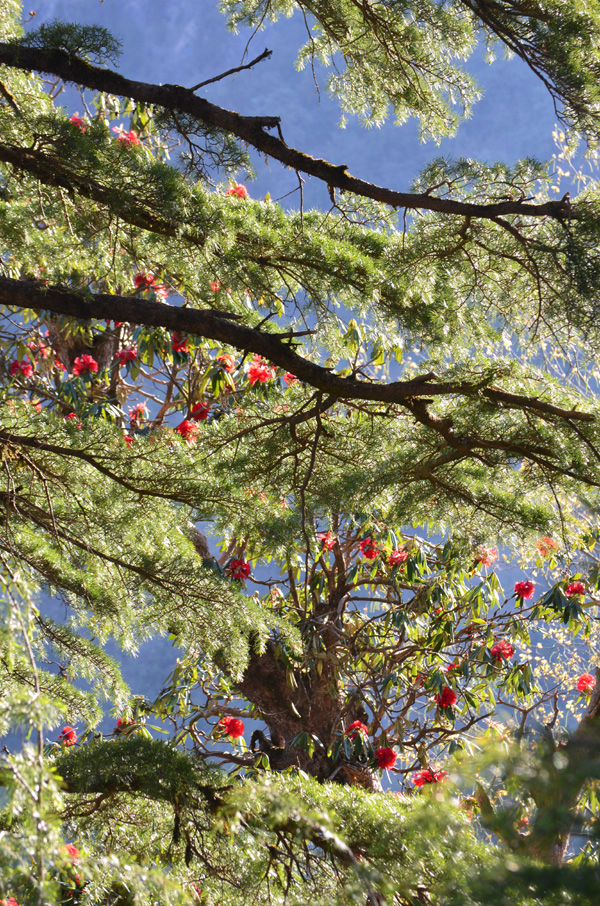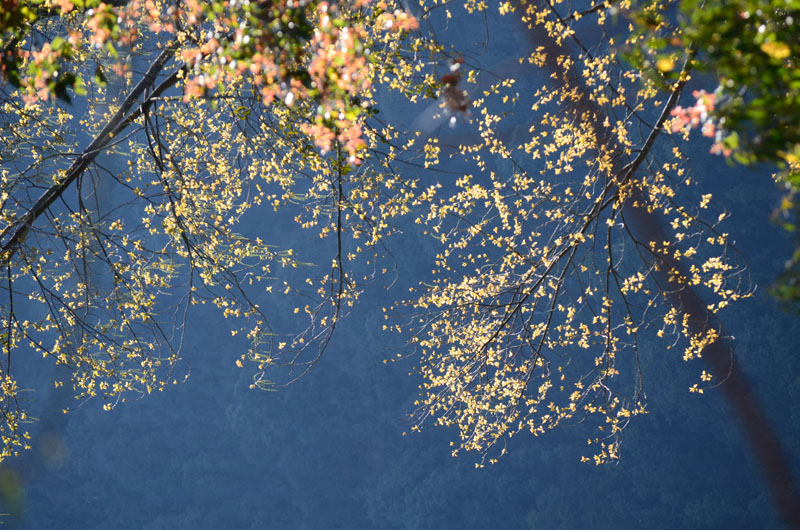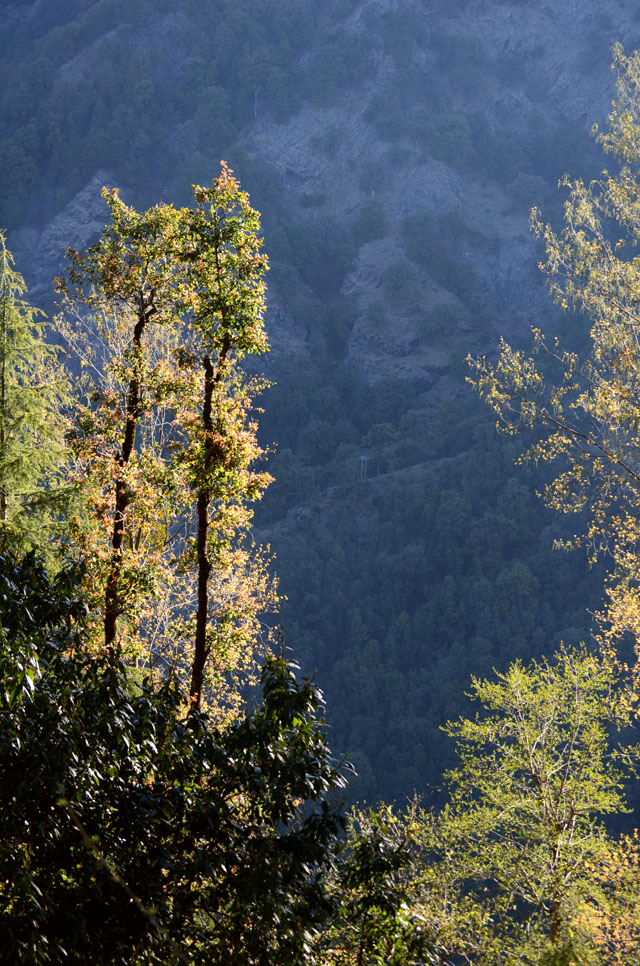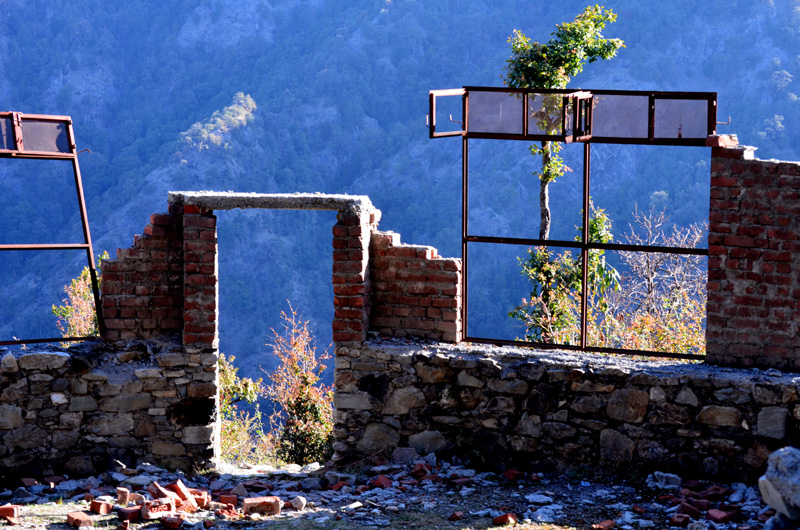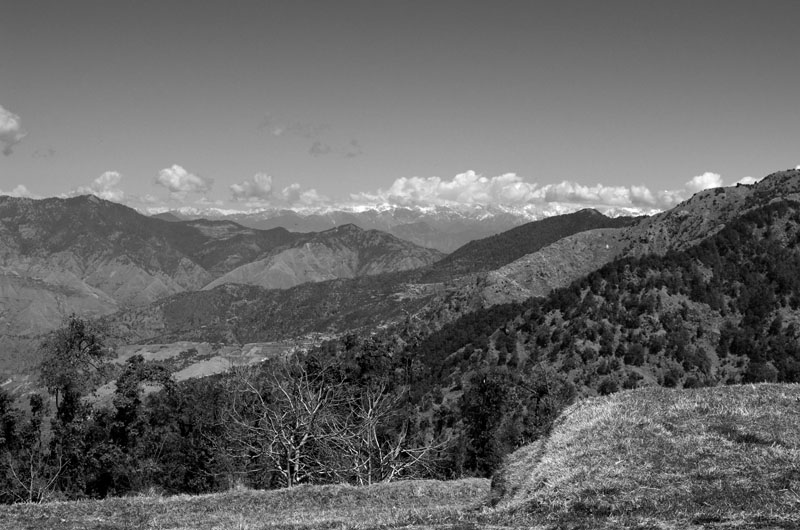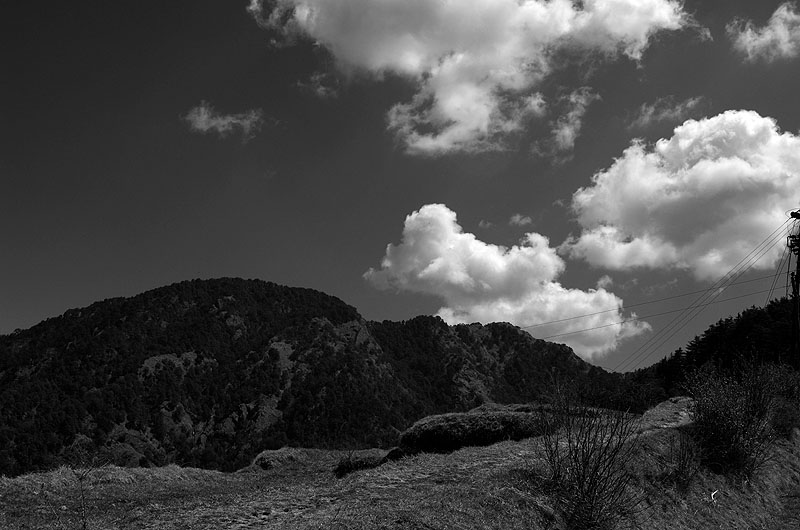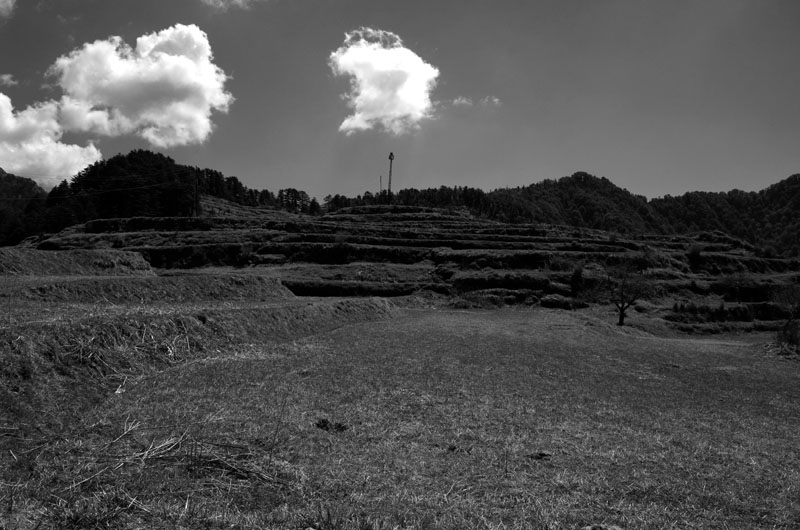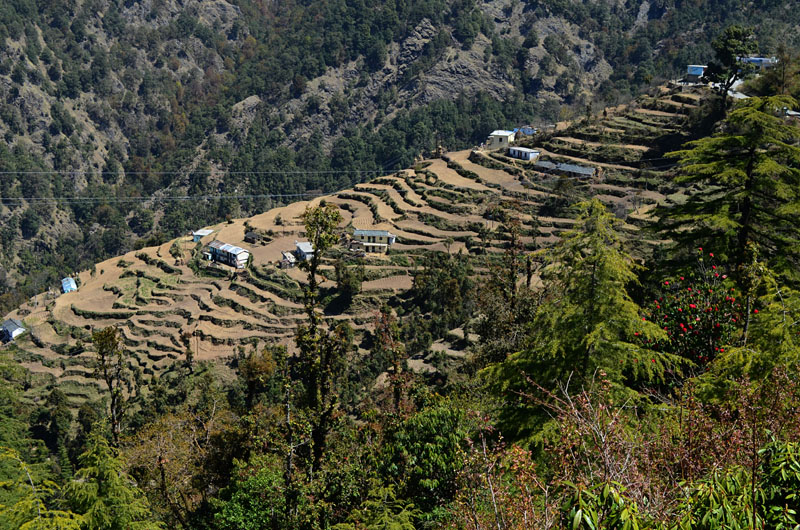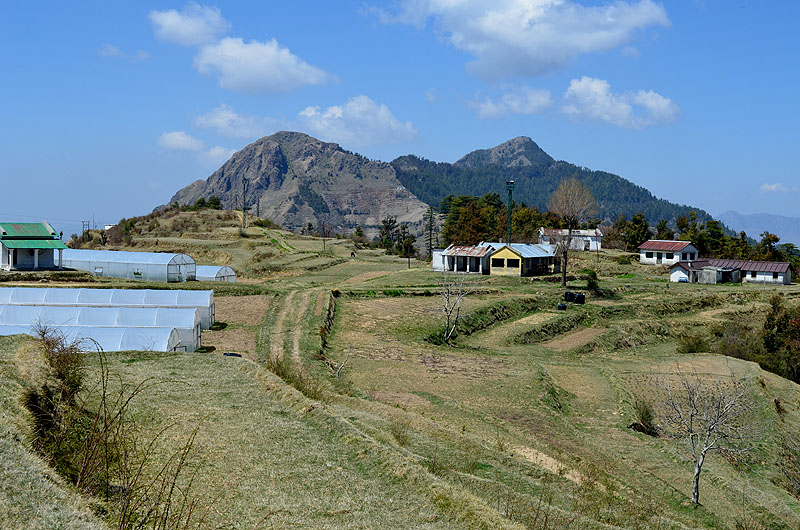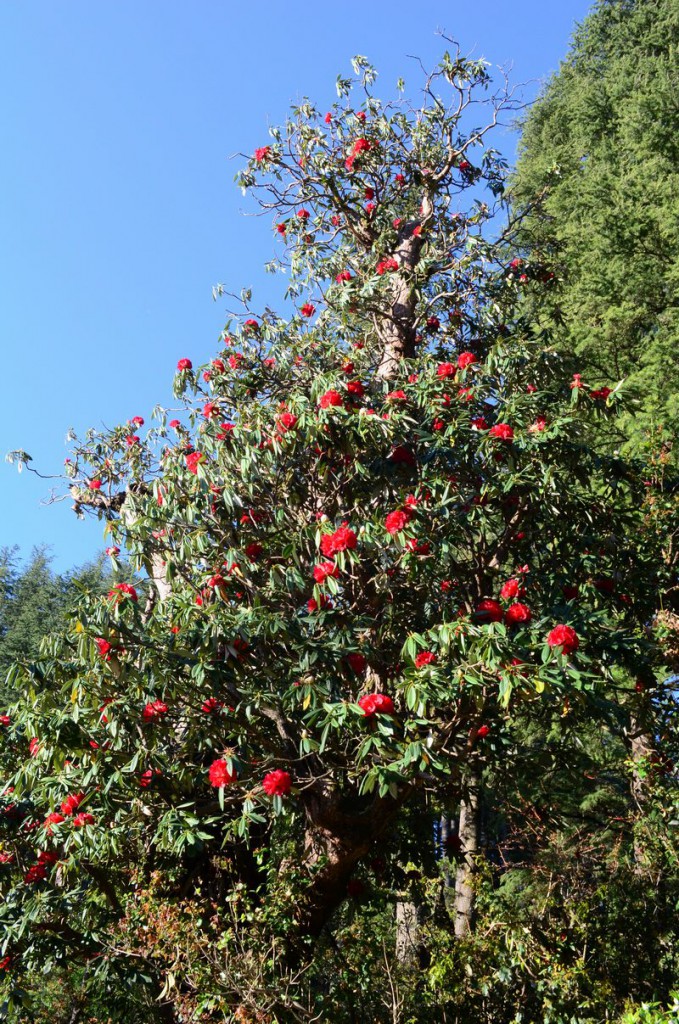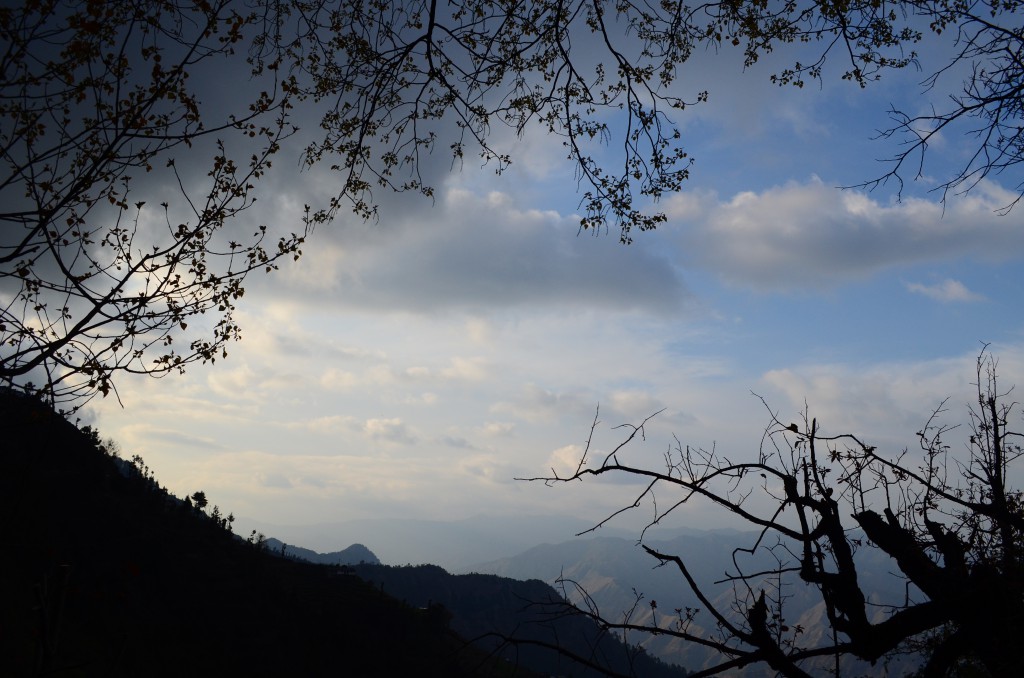 It was afternoon when I decided to say good bye to Dhanaulti and get a Tata Sumo shared taxi for just Rs. 50/- for Mussoorie. After staying for 2 hours with my cousin, I got a bus for Dehradun and then for Saharanpur. The return journey had nothing special but was much cheaper. The morning scenes of Mussoorie Chamba Road were still fresh in my memory and I was eager to transfer the pictures from my camera to the laptop. My camera thanked me for this trip and so did I to the camera.