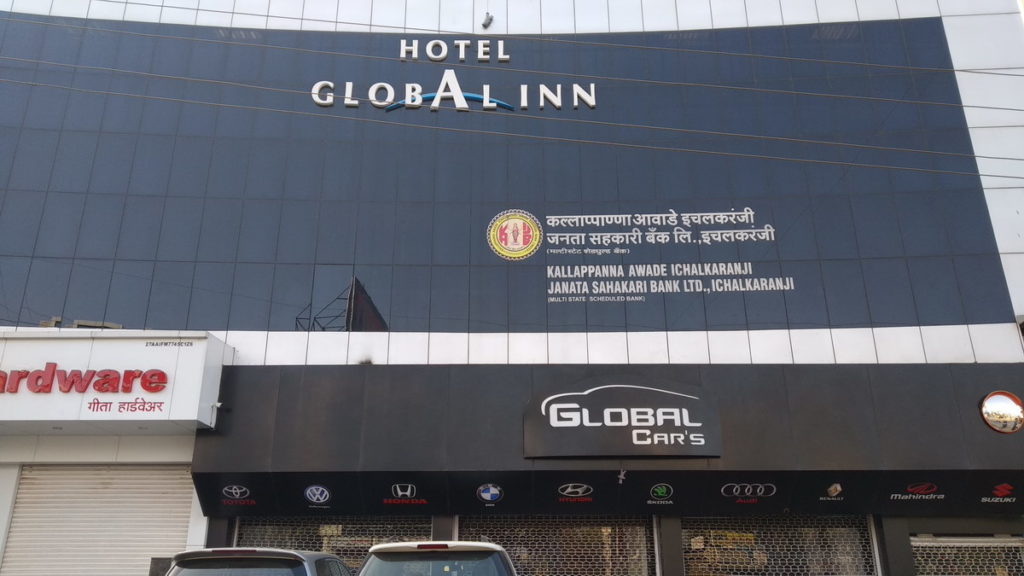 We had stayed at Hotel Global Inn, Jalna Road, Aurangabad on 21st January, 2020 for one night. We were 9 pilgrims including 4 senior citizen couples on a pilgrimage tour for 9 days. This hotel was chosen by my co-traveller friends for our one night stay at Aurangabad.
Hotel Global Inn has recently associated itself with FabExpress chain of hotels as well as OYO. Our local taxi driver could not locate the property and we used google navigation. When we finally saw the name Global Inn on a building, the driver looked for a U-turn to park the vehicle in front of the hotel.
The Hotel Property
This hotel is in a multi-story building and the ground floor is occupied by a car showroom. The owner of this hotel seems to be the owner of the car showroom also. The access to the hotel is through a rather uncomfortable staircase directly from the road. May be the idea of adding additional floors and use them as a hotel came quite late to the owner of the car showroom. The Hotel Reception as well as dining room are on 1st floor and the 4 rooms allotted to us were on 2nd floor. It is a small property and I don't think there are more than 10 or 12 rooms (or may be less) in this hotel. The dining area has got seating capacity for not more than 20 people. Affiliating their hotel with FabExpress chain and OYO must be for getting more and more clients.

Parking for vehicles :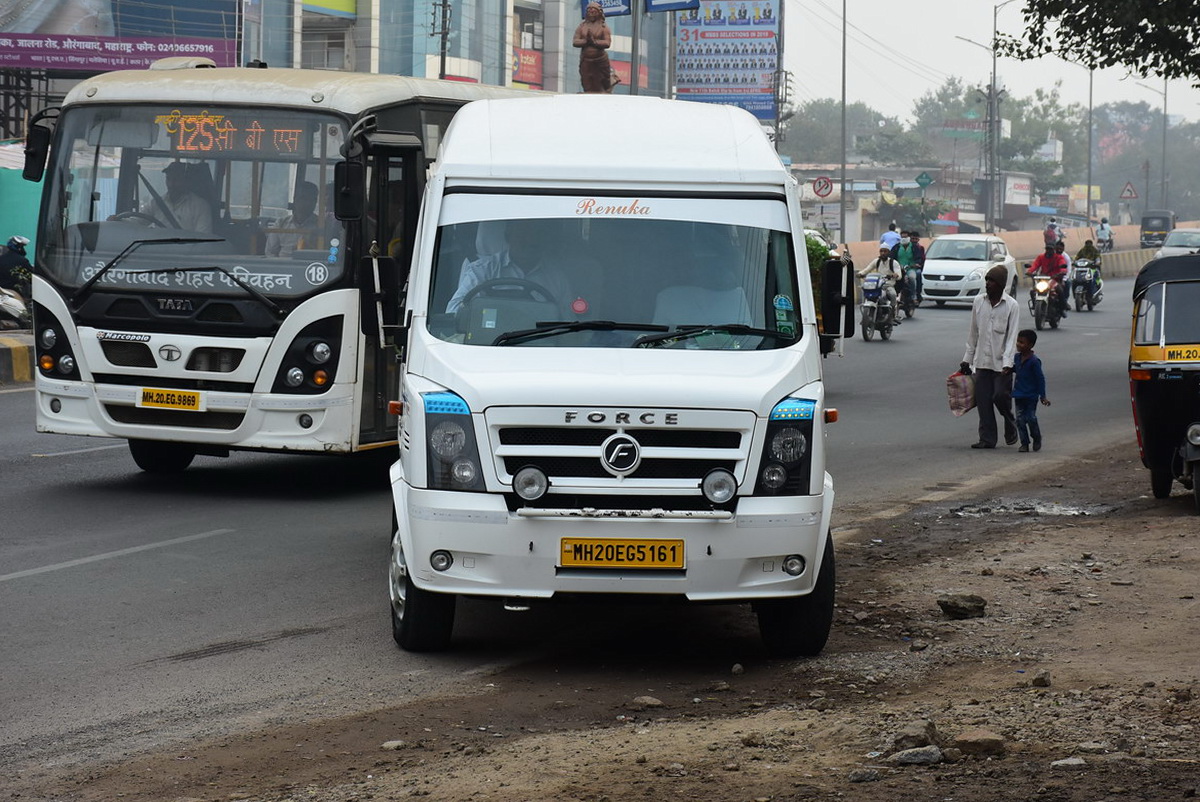 We did not find any parking for the guests for Hotel Global Inn. Our tempo traveller was parked in front of the car showroom since the showroom was closed. I desperately hope the show room owners do not shoo away the drivers.
Hotel Rooms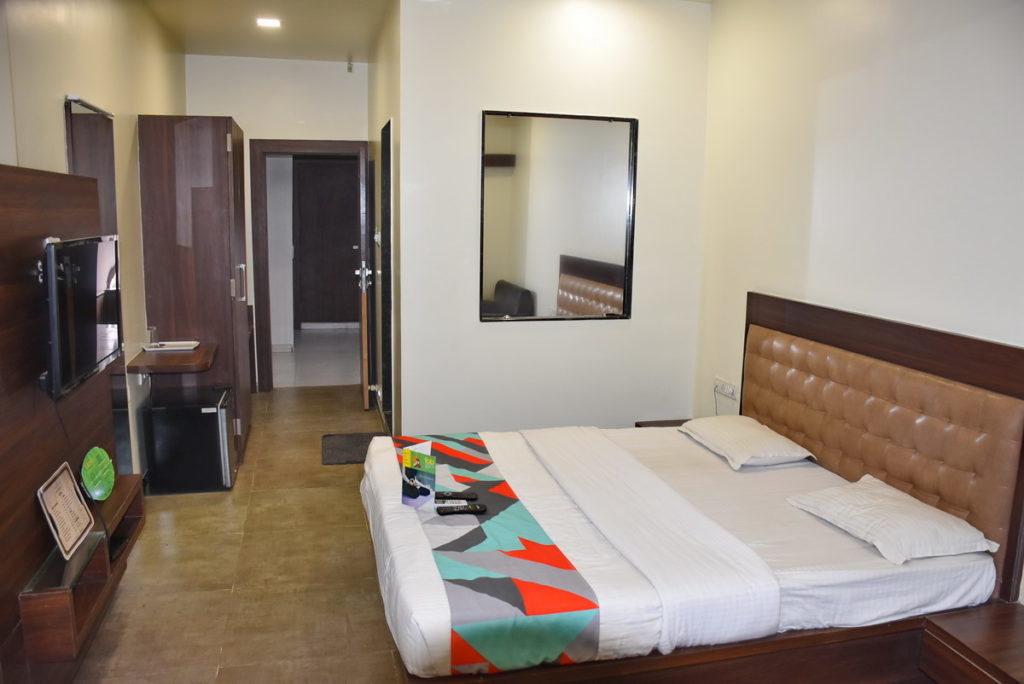 The hotel may not be a big one, the rooms are quite spacious, pleasantly furnished, neat and clean and comfortable. The double bed, the wardrobe, study table, chair, sofa, centre table, side tables, TV were okay. If needed, another mattress could easily be adjusted in the room. However, the TV was behaving as if it didn't have any authorised cable /DTH connection and was getting signals from someone else' connection! After surfing through various channels, I simply switched it off.
Attached Toilet in our room
There was nothing to be complained against in the toilet. It was clean, sanitized and had the usual toiletries. The size of the toilet was okay.
Check-in at Hotel Global Inn
We had reached the hotel early morning at around 8.30 straight from Aurangabad Railway Station. The check-in time at Hotel Global Inn was 12 noon and check out at 11 a.m. All the hotels where we have stayed in India have the same check-in and check out timings. However, we requested the Reception to open the rooms booked by us – if vacant and available, and the person at the Reception, after making a phone call to the owner, agreed to open the rooms immediately.  We really appreciate this cooperation.
Actually, we had arrived after 11 hours' overnight journey from Secunderabad. It was our natural desire to take shower, freshen up ourselves and proceed for the Ghrishneshwar Jyotirling darshan. Even after return from the temple, we had other local attractions on our itinerary viz. Ellora caves, Bhadra Maruti Temple, Bibi ka Maqbara, Panchakki and of course, a visit to the local market to please the ladies accompanying us. We returned to the hotel after 9 p.m. only after taking dinner in some nearby restaurant.
Food Quality at Hotel Global Inn
The breakfast was complimentary for us for 22nd Jan morning and not for 21st Jan. Since the hotel apparently didn't have any other guests other than us, they didn't have breakfast ready. However, they offered to prepare some South Indian item like dosa / idli etc. if we would allow them half an hour or 45 minutes.  Nearly half of us decided to take breakfast in the hotel while remaining members decided to look for some other alternative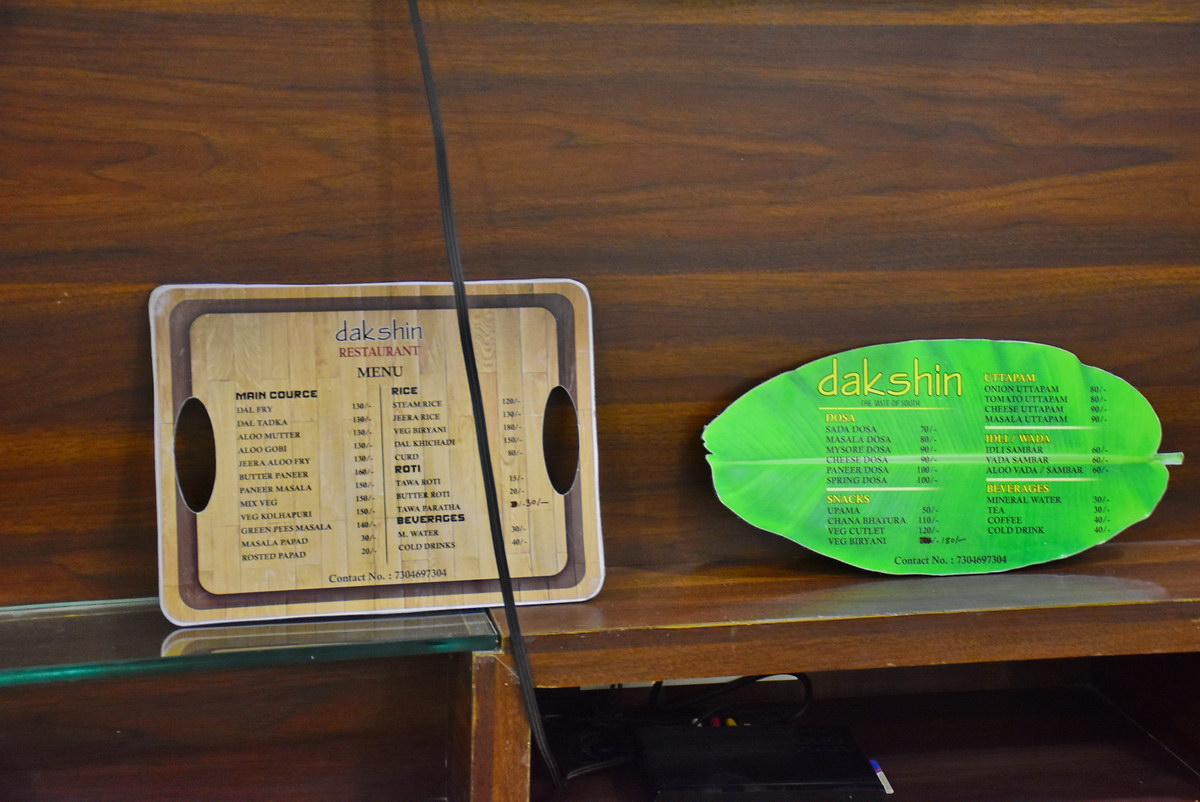 s and were delighted to have stuffed parantha, curd and coffee / tea in a restaurant in adjacent building. However, next day before checking out, all of us got our complimentary breakfast in the hotel's dining room. It was not buffet breakfast. For me, the sambhar that was offered with idli was intolerable since it was extremely spicy and full of red chilly. However, our other family members enjoyed it very much.
I think the hotel kitchen prepares food only on demand. If there are no guests staying in the hotel some day, they don't feel a need to prepare all items mentioned in their menu card. The local people of Aurangabad may not be visiting tiny restaurant of this hotel.
The Final Verdict – Stay at FabExpress Global Inn or Not?
I may recommend Hotel FabExpress Global Inn, Aurangabad to you if you are looking for a hotel basically to stay overnight and don't want swimming pool, gym or other means of entertainment. This is a cute little hotel and can offer you good quality sleep, vegetarian food at very reasonable rates and a nicely behaving staff. It is true that while looking out of your room's window you would see Aurangabad-Jalna highway and not some beautiful hills, monuments or gardens, the PLUS points of choosing this location are proximity to banks, ATMs, restaurants, railway station, airport, taxicabs, and emergency healthcare services. It is just a question of priorities.
Hotel Rating by me
| Parameters | Rating by me |
| --- | --- |
| Location in terms of convenience | Excellent |
| Lift / wheel-chair friendly | Not Available / No. |
| Parking | Poor |
| Rooms | Excellent |
| Toilets | Very good |
| Food Quality | Very good |
| Value for money | Yes |
| Staff behaviour | Excellent |
Hotel FabExpress Global Inn Aurangabad reviewed by me on various parameters.
Distances
Approx. distances of various locations from the hotel Global Inn:
Railway Station, Aurangabad – 3.5 km.
Airport – 7 km.
Ghrishneshwar Jyotirling – 30 km.
Ellora caves – 29 km.
Ajanta – 129 km.
Bibi ka Maqbara – 7 km.
Panchakki – 5 km.
Daulatabad fort – 17 km.